It sneaks in every year, right after our own county fair in New York. The Hopkinton State Fair—the fair where I grew up, every Labor Day weekend, in New Hampshire.
It is the backdrop of where I showed my cows, went to the tractor pulls and fell in love with all of my 4-H friends year after year.
The reigns have been turned over to my nieces, nephews, and cousins now. My, my, my, the good times they too, will have there.
Typically my kids and I make an appearance at the fair, at some point during Labor Day weekend. This year was no exception, except I was minus my children. I was flying solo. I think something called 4th cut alfalfa crept into the mix and beckoned my farmers. 😉
Going by myself gave me a chance to completely be an aunt, and do my job of spoiling.
So, we did it up, Aunt Kate style…with all the fair food we could muster in a very short period of time. Hold on tight, Grace and Molly, we goin' for a ride!!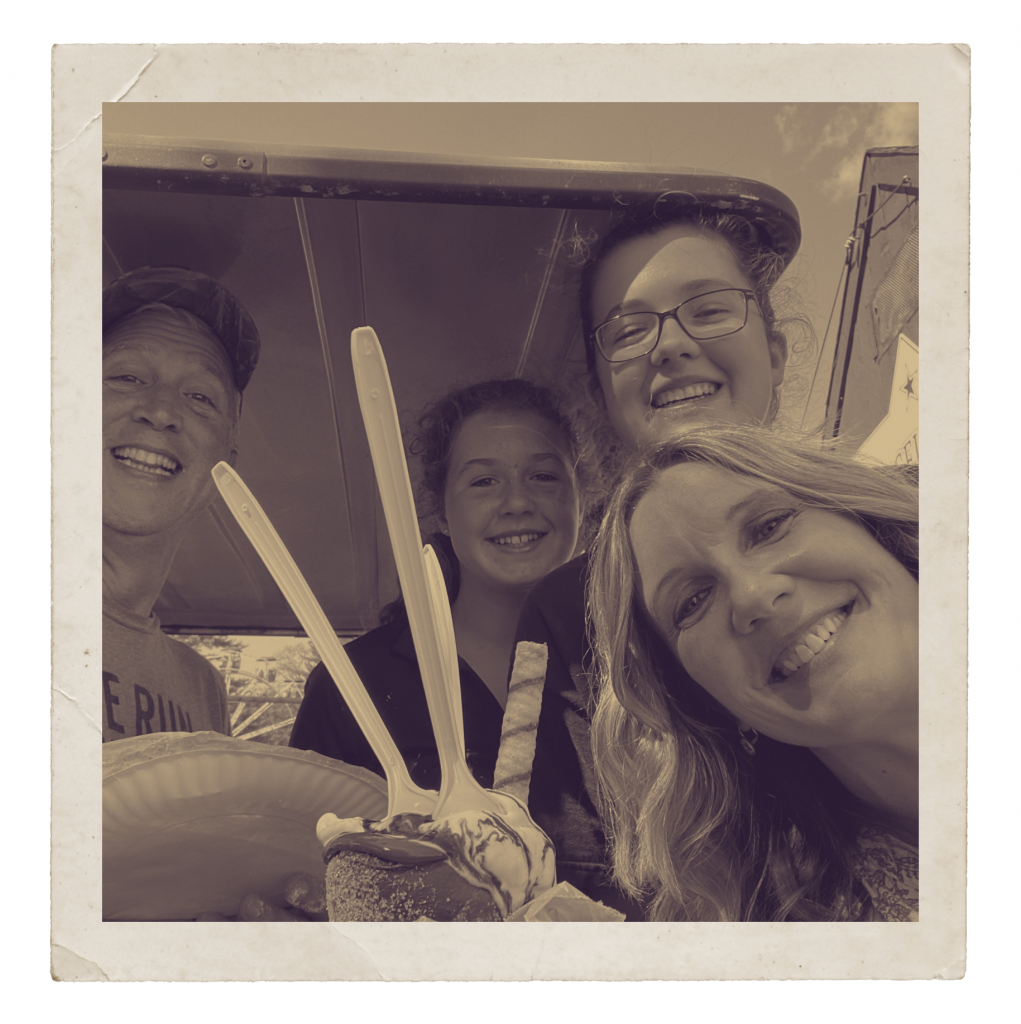 With the camaraderie of a very good family friend, Dan, my nieces, and I went on a 45-minute eating frenzy that was epic.
We got one of everything that suited our fancy and split it. It was so much fun! I felt like we were kids in a candy store. Checking out all the food vendors and trying to decide what was important to each of us.
If truth be told, Dan and I started on our way into the fairgrounds by indulging in a maple sugared donut from the NH Maple Booth—yum! It was hot and delicious and definitely would be where I would start every day at the fair if I was still in regular attendance.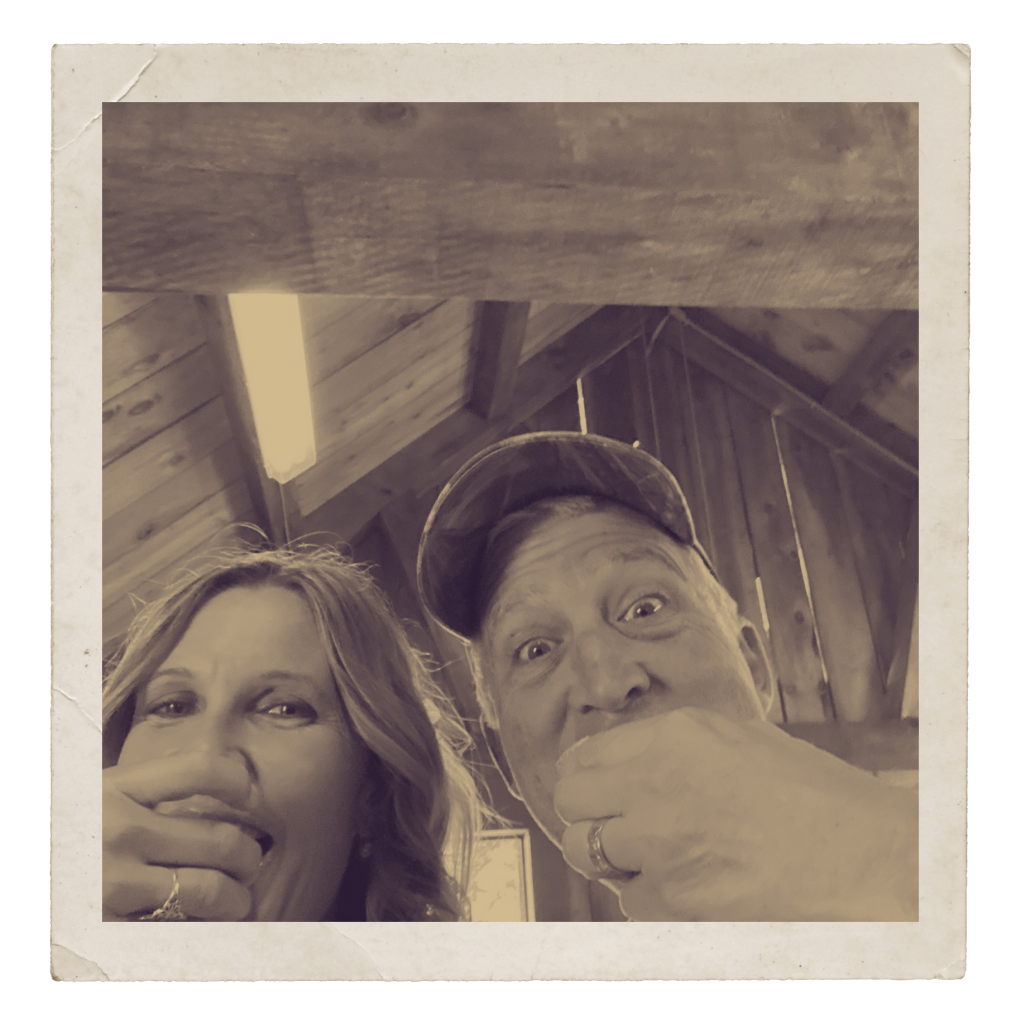 It was french fries, a big donut, a Donut ice cream sundae, fried dough, and to top it off, maple cotton candy. 🙂
When I think about the variety of stuff that we consumed during such a small window of time, my stomach churns. BUT it tasted SO GOOD!
The girls were in shock initially, but after the first 2 items went down the hatch they were all in—and Dan, well, he's Dan, and anyone who knows him, understands that he is always in for food and a good time, with people he loves to be with. We love him for that!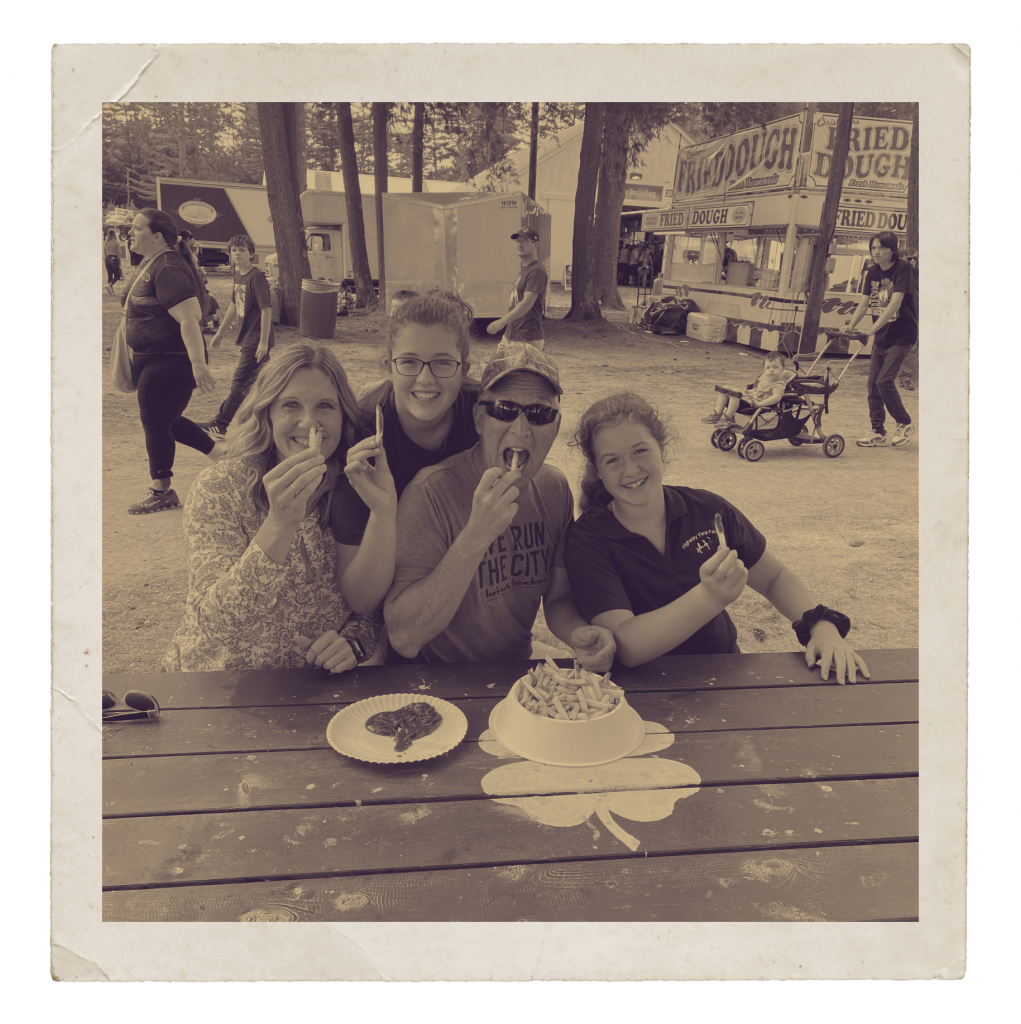 What a great day Saturday of Labor Day weekend was, at the Hopkinton State Fair! It wasn't necessarily about the fair, but what it was about was fun, good company, and going a little bit over the top with the food–which is what we all want to do when we go to a fair.
Sometimes you just have to leave all sensibilities behind and just do it up! Crazy Aunt Kate style! 😉
Here's to the start of school, getting back into a routine, and September.
Fall. I love it and plan to drink it up over the next few months!
With love,
Kate
Comments
comments