This morning, Tyler and his friends had their senior pictures done … I couldn't help but think to myself, "How did we get here?"
Just yesterday you were 6 and running around with your red grease rag hanging out of the back pocket of your denim overalls. Chasing after your dad, you were his little shadow on the farm.
I sent the three of you off to school this week, and it was the first, first day of school in which you all had face masks on. And the last first day I would have all three of you going together …
How did we get here? I asked myself as I watched all of you walking to school.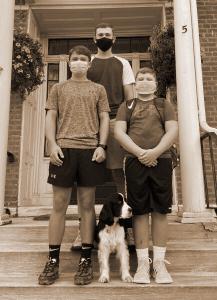 Yesterday, Sam and I went for a hike, and he kept up with me, he didn't whine about the steepness of the trail, and we were able to have grown up conversations about things like family, drugs and all the other stuff in between. I scratched my head last night as I crawled into bed and thought to myself, "How did we get here?"
As fall knocks on my door, this little thread of sentiment that annually weaves its way into my heart comes back.
The thread of autumn speaks to me of endings and beginnings, and points to the clock.
It's tinted with shades of change and loss, growth and hope. It weaves a pattern of time marching on, evolution and maybe the reality of my own mortality.
No longer am I a young mother of three little kids, but rather the parent of a senior in high school, a child who will be driving in a year, and a boy starting his last year of middle school.
As the leaves on the trees start to turn, and the nights cool down significantly, I look toward the hiking trails to simulate the comfort of forward motion and accomplishment, and not slowing down.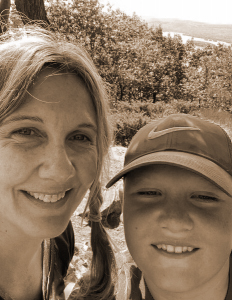 I bring things inside and I start baking pies and cooking hearty full meals again.
I harvest the last of my zinnia's and begin to think about pumpkins and dried corn stalks.
This time of year is beautiful and is filled with love and bounty. But it is always mixed with a pinch of melancholy.
And yet my cup is spilling over with contentment as I grab the last little bit of warmth from the late afternoon sun. I come into the fire to sit and reflect, with my mug full of coffee in the morning and a glass of red wine at night.
I bundle up with a sweater and I prepare to hunker down. I look around me and pause to think. What a great summer. With bittersweet sentiment, I am thankful for this fall.
And the thread of autumn, spun with many blessings, begins to weave its way into my heart as the last stretch of the year begins.
Hmmm, not sure how, but we got here …
With love,
Kate
Comments
comments